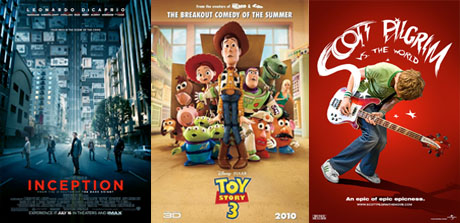 It's the New Year which means every film lover gets to make a list of their favourites films from the previous year – it's the law!
I tend to love films that I want to watch repeatedly, films that grow with every viewing. Every year I see many films I respect and appreciate but have no real desire to own or watch again. So below are my favourite films of the year we shall forever call -2010!!
Inception – for its sheer bravery.
Toy Story 3 – cause it made my eyes leak a little.
Scott Pilgrim – most fun in a dark room ever.
Kick-ass – kicked ass.
Shutter Island – A recent Scorcese film that I liked…yay.
And my honourable mentions:
The Social Network – great film…perhaps I'll learn to love it.
How To Train Your Dragon – a surprise delight…but not many kids films make my list.
The shit list.
Must be done…oh well at least most of these I saw with the kids or on flights!
Clash of the Titans. Green Zone. Cats & Dogs 2. Iron Man 2. The Spy Next Door. Salt.