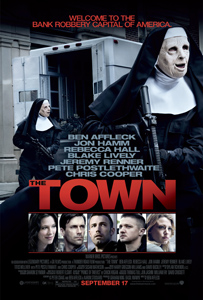 In a word: Familiar
I love it when first time directors knock it out of the park. Quentin Tarantino, James Cameron, Kevin Costner – god bless them all. In recent years I would add Ben Affleck to that list with his debut feature Gone Baby Gone. That film is a fantastic thriller, grounded in the real lives of Boston residents and featuring the best moral dilemma in recent memory. The Town, Affleck's second film had a lot of live up to and although it has many of the strengths of Gone Baby Gone, it is distinctly a lesser film.
The Charlestown neighborhood of Boston is renowned for churning out a high number of armed robbers, generation after generation. Such robbers include friends Doug MacRay, James Coughlin, Albert 'Gloansy' Magloan and Desmond Elden. The foursome carry out a mostly successful bank robbery, but due to circumstances take the bank manager, Claire Keesey, hostage for a short period before releasing her physically unharmed. They soon find out that Claire lives in Charlestown…
For me the biggest shadow falling over The Town wasn't actually Gone Baby Gone but Michael Mann's Heat. The similarities are rife and the comparison really shows up the latter film's short comings.
An expert crew pulling high risk jobs with automatic weapons, a determined police investigator, the protagonist falling in love with an innocent woman, street shoot outs and final double crosses. It's all here. The final act is almost beat for beat – Heat.
Many things are great about The Town. The acting is solid, Affleck's use of location and locals is perfect, the action well staged and exciting. The cinematography is grounded and beautiful, the score lyrical and poetic. It's in the character department that The Town flounders a little. Everyone feels very authentic but not very interesting, and they don't really go anywhere (except to the morgue).
I don't think The Town will do Affleck any damage. It's still a well crafted, heart felt movie in a sea of films that can't claim either. I was disappointed, many weren't, but hopefully Ben Affleck will continue to go from strength to strength as one of the most interesting directors working today.
3/5