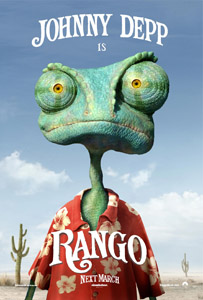 In a word: Surreal
Right now could easily be a new golden age for animation – led no doubt by the enormous critical and commercial success of Pixar. Want original, distinctive, bold filmmaking? Go see an animated movie right now. Even A list directors have realised this, riding on the success of films like Tim Burton's A Nightmare Before Christmas and Wes Anderson's Fantastic Mr. Fox we get Gore Verbinski's Rango.
A sheltered chameleon (voice of Johnny Depp) named Rango who is an ordinary family pet faces a major identity crisis. When he accidentally winds up in the gritty, gun-slinging town of Dirt—a lawless outpost populated by the desert's most wily and whimsical creatures—the less-than-courageous lizard suddenly finds he stands out. Welcomed as the last hope the town has been waiting for, new Sheriff Rango is forced to play his new role to the hilt…until, in a blaze of action-packed situations and encounters with outrageous characters, Rango starts to become the hero he once only pretended to be.
What's great about directors like Verbinski working in animation is just how much creative control they can exhibit. There's more creativity in the first 10 minutes of Rango than both of the Pirates sequels combined. Everything is fantastically quirky, idiosyncratic and at times wonderfully surreal. From Rango's best friend Tim (a clockwork fish) to one of the best cameo's in a western ever – the film is a delight of twisted absurdity.
That doesn't mean it scrimps on action, adventure or humour. Johnny Depp's Rango is a loveable idealist – thrust from acting into action. He grounds the film and provides much of its considerable charm. There are many highlights – from the Ride of the Valkyries aerial attack to Rattlesnake Jake's gattling gun showpiece. The ultimate bizarro touch must go to Beans's defense mechanism.
My only criticism? The plot is a mash-up of every Western you've ever seen, just when the visuals and characters seem so fresh and original, the plot reminds us of just how much the whole thing is on rails.
Still an original, fun crazy movie that the whole family can enjoy (despite many reviews claiming this skews too adult – I disagree) one of Verbinski's best that at last proves he can make a film that's actually the right length.
4/5