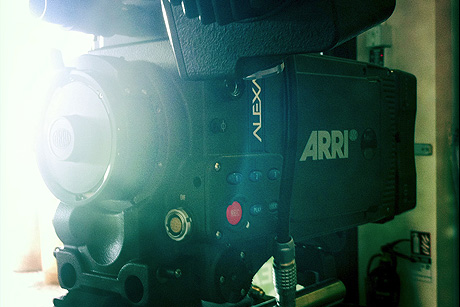 Its taken me a little while but I've finally caught up with the ARRI Alexa. Recently I've just shot my first commercial using the camera (actually the latest PLUS model with more exterior connections and EVF not optical viewfinder) and thought I'd share my very early experiences.
For a good few years now the film industry has sought the Holy Grail. A digital camera that replicates the look of film with none of the usual drawbacks that come from shooting digitally. The Alexa is looking more and more like the camera we've all been waiting for.
First impressions?
It's a solid lump! Much like the RED ONE – it takes its design cue from a lego brick. Has anyone learnt anything from Aaton?
The user experience is second to none. The menus are simple, quick, dependable and make sense.
The images are great. Great resolution, very 'clean', low noise, nice highlight falloff, fantastic dynamic range.
LOG C is scary. Luckily we have REC709 for monitoring – shame playback is only in LOG C.
Cameramen, DOP's, assistants, soundmen, grips – all LOVE this camera. IT WORKS. Without hassle, geeky knowledge or homemade parts.
Is this what we've all wanted all along? A camera that produces the dynamic range and look of film, that's dependable and reliable, that takes all ARRI parts, that is easy to use, that has no big codec, rolling shutter or moire issues. That can over and under crank without reducing resolution or sensor size. That has quick access buttons for ISO, FRAME RATE, SHUTTER SPEED, SHUTTER ANGLE, COLOUR BALANCE. Is rated at 800 ASA for low light photography. Produces stunning imagery without looking processed for artificial…
Well I think ARRI have done it. This camera is all these things. In fact I'd go as far as saying why would you shoot with anything else?
Well…
I feel there are two other cameras that still challenge the Alexa's crown – the 5D and RED EPIC.
The 5D is no match for the Alexa in any normal shooting situation (their price points are on two ends of the spectrum!). I use the word 'normal' carefully because where the 5D comes into its own is in the abnormal. No other camera can deliver those images with that form factor. For discreet or awkward shooting it cannot be beaten. The Alexa is still a heavy brick.
Then there's the EPIC which I haven't used. If the RED ONE is anything to go by the images will be stunning but at the cost of simplicity and dependability. What the EPIC does do is change what we think a digital camera (hell any camera) is capable of. If the Alexa is the king of digital cinema now – the EPIC is the king of digital cinema tomorrow.
5K at 120fps. HDR mode. Full-frame sensor. Not much bigger than an DSLR. What a great way to push the competition!
Exciting times indeed.