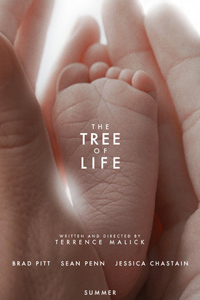 In a word: Different
Where do you begin with a film like The Tree Of Life? With the beginning of life on Earth? The meaning of our existence? The role of God and spirituality in our lives? In fact any of those will do as The Tree Of Life covers them all.
The impressionistic story of a Texas family in the 1950s. The film follows the life journey of the eldest son, Jack, through the innocence of childhood to his disillusioned adult years as he tries to reconcile a complicated relationship with his father (Brad Pitt). Jack (played as an adult by Sean Penn) finds himself a lost soul in the modern world, seeking answers to the origins and meaning of life while questioning the existence of faith.
The Tree Of Life is no ordinary film. It doesn't deal in standard narrative structure, actual scenes or even anything as mundane as proper dialogue. This is more of a visual experience, a tone poem to love, loss and everything in between. And there's no doubting the craft on display here, every shot is evocative, sensual and compelling – all designed to make you FEEL something.
Transformers 3 this isn't.
The biggest leap to get your head around is the lack of the 'extraordinary' here. Events are ordinary, mundane even, yet therein lays their power. Let the film pull you in and everything becomes important – from our childhood memories, to the relationship with our parents, to the birth of the universe.
This is also a deeply personal film. We never find out what Jack's brother dies of at the age of nineteen. What is known is that Terrence Malick's own brother died at that age from suicide.
Tonally it reminded me of The Fountain, which also covered lofty themes is an obtuse abstract style. Tree Of Life however is far less dramatic or grandiose – its charms are subtler and belong in what is not said but implied.
Faults. You can definitely argue there's a lot of navel gazing going on here. Fortunately it is more prevalent in the first and final acts. I also felt the final confessional scene with Mr O'Brien (Brad Pitt) when they are leaving their home was a little on the nose for such a reserved character.
So can a film really aspire to art? On the strength of this – why not. It has something to say, it makes you think and most importantly it makes you feel. Does it hold the meaning of life? That depends on you. The joy is the questions is raises perhaps more than the ones it chooses to answer. Where does life come from? Why are we here? What is God and what is his plan?
For me?
The meaning of life is in the choices we make. The path of grace or the path of nature.
Choose wisely.
5/5