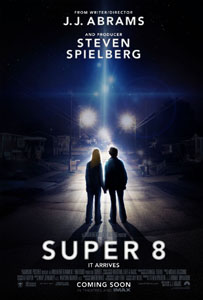 In a word: Nostalgic
There was a time when Amblin Entertainment, Steven Spielberg's production company ruled the multiplex – if we actually had multiplexes back then! Films like E.T. The Goonies and Close Encounters were packing them in and lighting up imaginations. You knew you were in for a great story, identifiable characters and lens flares. Times have changed and not really for the better. J.J Abrams agrees and so we get 'Super 8′ a love letter to those glorious 80′s movies about a gang of kids we all grew up with.
It's the summer of 1979, a group of friends in a small Ohio town witness a catastrophic train crash while making a super 8 movie and soon suspect that it was not an accident. Unusual disappearances and inexplicable events begin to take place in town, and the local Deputy tries to uncover the truth behind all those inexplicable (but very pretty) lens flares…
Everything about this film feels warm and nostalgic, like a Sunday afternoon 80′s classic. The tone here is spot on and works a treat – pulling us into the story and the characters. And what a great cast. In the current era of CGI laden, soul-dead adventure flicks, Super 8 distinguishes itself by having heart. There is an authenticity to the kids in the film, a familiarity in their conversations. Their friendship really resonates, and the emotional elements of the film work the best.
The only downer is the inevitable reveal of what actually escapes from that train. And here J.J's influence is keenly felt – I'm sorry but he's just not great at designing monsters – there I said it!
Surely it will draw its comparisons to ET, and the other early Spielberg works, but those comparisons will always be unfair. Those films came at a different time. And the people who see Super 8 today, have changed since they first saw ET, or any of those other films. I am just glad a generation of younger people will have this as a generational film for them, as we had with those heartwarming Amblin classics.
4/5