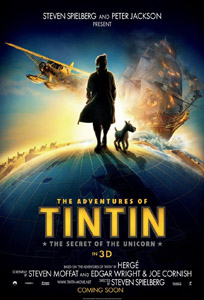 In a word: Exhilarating
The time has finally come, Spielberg has now admitted to the short-comings of Indiana Jones IV, most of which seem to land at the feet of one George Lucas. Unshackled from his friend's 'creative flourishes' (including gophers and Tarzan impersonations) we now have true family Spielberg. And it feels almost as good as it always has.
Tintin is a junior reporter who follow stories to the ends of the earth, even though he often finds his own life in jeopardy. His able assistants include a white dog named Snowy, the lunatic Captain Haddock, the muddled genius Professor Calculus and the Thompson Twins. Based on the Belgian cartoon character, there are plans for three back-to-back films, which will be in full digital 3-D. Steven Spielberg and Peter Jackson will both direct an installment of the trilogy.
I have no background or preconceptions when it comes to the source material – having not read the comics. But based in this installment the stories and characters are first class. For the first time Spielberg is allowed to play in the sandpit of motion capture and full 3D animation. The results? Rarely short of breathtaking, inventive, warm and enjoyable. With set pieces that dazzle the mind and wonderfully vivid likeable characters. It's also a welcome return to the vibe and tone of Raiders of the Lost Ark, together with John Williams, the retro magic is infectious.
The cast also shine, Jamie Bell (Tintin) adding real zing and gusto to what could have been a bland hero. But the show stealer for the second time this year is Andy Serkis as Captain Haddock. What a fantastically anarchic brilliant foil. He carries the heart of the movie as well as the majority of its laughs (just wait till you see how he keeps a failing aeroplane engine going).
My only complaints? The pace (especially during the action highlights) is a little too frantic at times. Making it hard to truly appreciate the invention and wit on display. Also the ending is a damp squib rather than a rousing denouement. But I'm pretty sure those complaints will disappear on repeated viewings.
I for one welcome future installments and hope upon hope that if the rumored Indy V comes to pass – Spielberg will take a leaf from Tintin's book and show this kind of skill, panache and above all – taste.
4/5