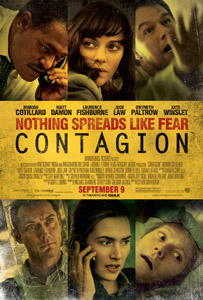 In a word: Compromised
If there's one thing you can learn from Steven Soderbergh's latest movie 'Contagion' it's this; multi-character storylines are bitchin' difficult to pull off.
Soon after her return from a business trip to Hong Kong, Beth Emhoff dies from what is a flu or some other type of infection. Thus begins the spread of a deadly virus. For doctors and administrators at the U.S. Center for Disease Control, several days pass before anyone realizes the extent or gravity of this new outbreak. As the contagion spreads to millions of people worldwide, societal order begins to break down as people panic…
I have no idea how the writer Scott Z. Burns researched this one. I can't remember watching a movie that felt more realistic, relevant and relatable. This is a ground up examination of a global response to a pandemic virus. And yes that sounds like a big subject – and it is – but Contagion really pulls this off with bells on top.
From quarantine procedures to CDC politics, everything just feels so real and terrifyingly believable. Soderbergh's style also compliments the subject perfectly. From his RED ONE photography to the sparse throbbing score, a great match of Director and Subject.
The performances are no slouch either. Kate Winslet, Laurence Fishburne, Marion Cotillard and Matt Damon all excel. Damon especially bringing humanity and pathos to a father struggling with grief.
So…why isn't this a great movie? Simple. Too many stories. Too little time. Every emotional journey feels truncated here. There is way too much emphasis on what is happening NOT who it is happening to. We have no core protagonist to guide us through, no lead emotional journey and hence no real movie.
Multi-character storylines CAN work – just see L.A Confidential – you just need to make sure you don't bite off more than you can chew.
3/5