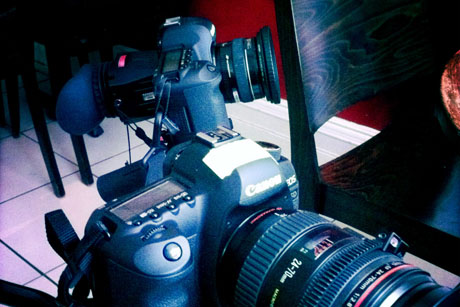 I've been using Canon DSLR's now for a number of years and thought I'd pass on my experience of the Canon 7D for production use. So far I have used the 7D for commercials and for documentary work and despite some to-be-expected limitations have been very happy with the results.
Is there a DSLR's revolution? I think there probably is…it has bought photography back to low-budget filmmaking and takes us away from very forgiving small chip ENG cameras. A new generation of filmmakers will grow up appreciating f-stops, shutter speed, crop factors and depth-of-field – perhaps not because they want to…but because to get good results from a camera like the 7D – they have to.
What I love about the 7D.
The sensor size is a great match for a Super 35mm film gate. Lens field-of-views (by and large) match a standard production film camera – great for learning and simplicity.
It looks like a stills camera. I doubt this will be the case in the near future as large chip camcorders are just around the corner but for the moment I look like a tourist while grabbing run-and-gun on the streets – fantastic.
I also feel the small form factor is great for reduced camera intimidation for interview subjects, especially members of the public. The DOP will moan about it's handling but they always do 😉
Fantastic for long lens photography. I'm not a true long lens guy but if that's your bag or you need lens reach then this is your baby. With the 1.6 crop factor APS-C chip it gives you a distinct advantage shooting long over the 5D Mark II, or the 7D can act as a great alternative body.
It's cheap. I mean by industry standards. At about £1200 I know many directors, cameramen and production companies have bought them over hiring. That makes the camera truly mass market.
What I don't like about the 7D.
Anti-aliasing and moiré needs sorting. Whatever you do avoid interviewees wearing black-rimmed glasses! Generally as long as you are aware of the issues and you control your lens sharpness (through the picture style menu and f-stop) then you can control it.
Post flow could be better. But then post flow could be better with every single file based camera out there!
Artificial colour balance isn't great. A known Achilles heel for Canon and can be sorted with good lighting, shooting outdoors or using an Expodisc. See tips section.
Hand held and rolling shutter issues. No one will be shooting Bourne IV on it unless they love the jello-cam look! The 5D and 7D suit calmer situations and formal compositions, anything a bit sedate really. Whip it around at your peril.
Tips I've learnt the hard way.
Use good lenses. Canon L glass and Zeiss for pro work, it's worth it.
Use a Zacuto Z-Finder. You can't shoot handheld video without it. Look out for the anti-fog kit for the older version.
Don't shoot wide open. As tempting as 1.2 or 1.4 may be you are in a world of hurt focus wise and compromising lens performance, especially sharpness. f2.0 is you really want shallow and 2.8 for interviews / GV's.
Use an Expodisc. Great in front of the lens device for accurate colour balance, especially when you are dealing with mixed temperature sources.
Shoot flat. Standard picture style is way too crushed. Tone down the contrast, saturation and sharpness ready for the grade.
The 7D loves light. Although low light level can bring it's own look, ultimately my favourite rushes come from the best lighting.
Keep it steady. Hands on camera or lens equals tremors that aren't pretty. Use a small Zacuto rig or Red Rock Micro for hand held work or a monopod works well for inconspicuous shooting.
Watch that zero in 4:2:0. The zero is the compressed colour information, this is where Canon compromised the most. Shoot close to how you want to grade for best results. Radical temperature shifts in the grade don't hold up. Nor does keying.
It's a great directors viewfinder. Combined with Artemis for the iphone (for true accuracy) fit an 18-200mm and mark-it up for your lenses for a fantastic directors tool.
Final thoughts.
For me the 7D and other Canon cameras (5D Mark II blog to follow), 550D and 60D are really helping transform the landscape of personal filmmaking. Just look on sites like Vimeo or Exposure Room to see how much fun and creativity can be wrung from these little gems, and along the way filmmakers will be born.