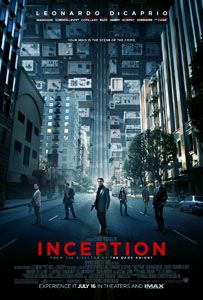 In a word: Astonishing
I loved Inception. It was one of those movies that truly transports you, setting up a whole world and pulling you deeper and deeper into it. The confidence of the storytelling on display I found inspiring, it felt as though Nolan has been building to this through all of his films – most notably Memento and The Prestige.
Dom Cobb is a skilled thief, the absolute best in the dangerous art of extraction, stealing valuable secrets from deep within the subconscious during the dream state, when the mind is at its most vulnerable. Cobb's rare ability has made him a coveted player in this treacherous new world of corporate espionage, but it has also made him an international fugitive and cost him everything he has ever loved. Now Cobb is being offered a chance at redemption. One last job could give him his life back but only if he can accomplish the impossible-inception.
In the words of a Colonial Marine – stay frosty, because this one does take some concentration. Dreams fold into dreams that fold into dreams, leaving us truly unsure of what (if anything) is real anymore. The effects are great, all in service of the story and featuring the best zero G shooting since 2001. What amazes me the most about Inception is the boldness of its design – you can almost imagine the crazy flow chart Nolan had on his wall while writing it.
Even the brooding Inception theme is a slowed down version of Edith Piaf's Non, Je Ne Regrette Rien that features throughout the film. The river of ideas runs deep.
For me Nolan's films are all about a filmmaker pushing himself, setting up notions that almost can't be done – then actually pulling them off.
Can a film unravel in reverse?
Can a film about magic be magical?
Can a film turn out to be dream?
Yes. I am one of the (maybe few?) Inception viewers that believes the whole film was a dream. The excellent article by Devin Faraci on CHUD.com called Never Wake Up: The Meaning And Secret Of Inception sums up my feelings on the film. In the final scene it doesn't matter if the spinning top falls or not – what matters is Cobb doesn't care. The dream is as valid as the real and for Nolan it's job done.
Going to the cinema is as close to collective dreaming as we can get, and the fun of Inception is just how a master manipulator like Nolan understands this and plays us all like a harp from hell.
5/5